If you work in or around the child welfare system you are likely involved in an effort to change it. One part of the change process is getting crystal clear on why change needs to happen, exactly what change is being implementing, and why we believe it will work.
The 13-jurisdiction, 4-state Alia UnSystem Innovation Cohort spent 3 years in a focused effort to make change so families and workers could experience healing and wellbeing. One part of the change process which challenged this group of child welfare leaders was getting crystal clear on why change needs to happen, exactly what change they are implementing, and why they believe it will work.
Alia created this Theory of Change worksheet to aid in the process of clarification: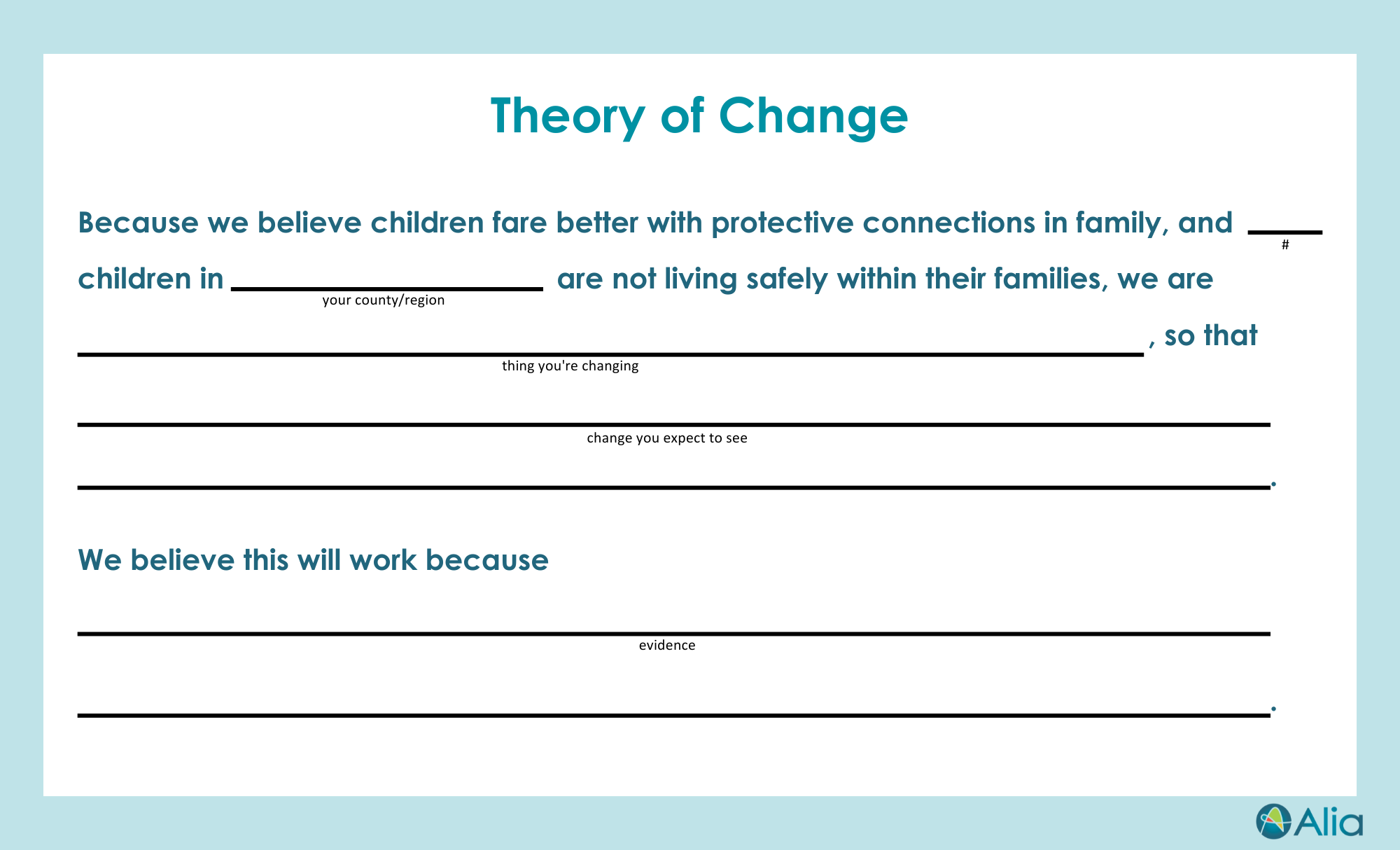 One of the Cohort jurisdictions had a full page of words – it's so much easier to write a page than a paragraph! – and distilled it down to this:
"240 youth in our county have been removed from their families and are living in residential care or with strangers. Because we know children fare better with protective connections in family, we are focused on helping parents remain able to safely care for their own children at home, offering the right services at the right time, relieving family stressors before abuse or neglect occur. We believe this will work because families know what they need and can be their own problem solvers. It's how we would want our families to be treated."
For yourself, your team, the families you serve, and for the community who will sooner or later catch wind of the changes you are making, get clear on the change you are trying to make and why. Without being able to articulate the changes you're making with a clear goal and direct language, it makes supporting the vision feel risky.
To garner more support for your efforts to keep families safely together, try completing the Theory of Change worksheet for yourself or with your team. Then, practice your elevator speech and share with anyone who will listen.