One thing most people can agree on is how important it is to keep children safe and families together.
In this time in our history where political polarization feels most intense, Americans still have far more overlapping beliefs and values than contradicting ones. In 2020, the Harvard Kennedy's School Carr Center for Human Rights Policy conducted a poll and found, "In an election season marked by fierce partisan division, majorities of Americans of all political stripes express strong support for rights that reach well beyond those guaranteed by the U.S. Constitution, including the rights to affordable healthcare, clean air and water, a quality education, and privacy of personal data."
We all want to feel safe. We all want agency over our lives. We all want to be free from harm or the threat of harm. We all want to be able to pursue happiness in the way that is authentic to us. We all want to be able to care for those we love.
One group of faith-based global funders and NGOs shifted their approach to child and family wellbeing around the world, from supporting orphanages to supporting families in poverty so more kids could remain safely within their own family networks. "Changing the Way We Care" is their slogan, because they didn't change their values, only their approach. Their commitment to the safety of children and families remains steadfast but how they work toward that value has shifted.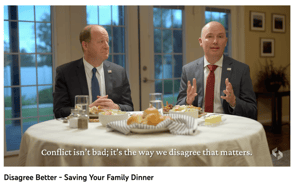 The National Governors Association is campaigning for Americans across the country to "disagree better" because families rely on policymakers and other leaders to work together so government can work for people. As we work hard to enact policies and practices to best support families, we needn't question the morality or thrash character of others.
Share your experience and also listen to the experiences of others to find common ground. Because we have a lot more in common than we think.
Click HERE to join the conversation online.