Major economic and injustices remain, yet this trend is worth highlighting: a White House report shows micro improvements in the employment prospects of Black Americans.
A Wall Street Journal article summarized the report showing Black workers moving into higher-paying fields such as utilities, construction, and tech which offer greater long-term stability. Last year, Black Americans saw faster wage growth overall than other Americans, even slightly outpacing inflation.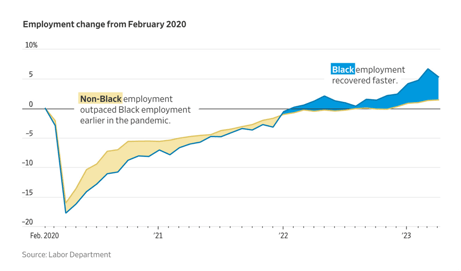 Black Americans tend to suffer disproportionately during recessions, therefore Black employment recovering faster post-pandemic may mean the increased wages and higher wealth accumulation (albeit marginal) for Black Americans is more than temporary.
Since increased economic stability is associated with fewer investigations and fewer incidences of child abuse and neglect, this is good news for kids and families. For example, from 2004 to 2013, states that increased the minimum sage beyond $7.25 per hour experienced a decline in child maltreatment reports. In fact, every $1 minimum wage increase associated with a 9.6% decline in neglect reports.
Parents having sufficient resources to provide for their families helps minimize family stress and protects against child abuse and neglect. Concrete support to families IS a child protection strategy.