UnSystem Innovation Cohort
14 jurisdictions
5 simultaneous experiments
10 Phase I monthly in-person work session
3-year commitment to transformation
20 leaders and innovators fed-up with traumatizing families
1 common aspiration:
Family connections are always preserved and strengthened.
Only through a comprehensive redesign – a revolution – can the current child welfare system become a just and loving response to working with families. Continuous, incremental improvement can never achieve the fundamental changes that are necessary for keeping families safely and radically connected.
Who is in the Cohort?
Chosen through an application process assessing vision and readiness for change, the Alia UnSystem Innovation Cohort is a team of 20 – child welfare leaders and trusted advisors committed to child welfare redesign.
Each leader duo (Director and Deputy Director of a public child welfare agency) have been matched with two guides, 1) professional guide – sage advisors with years of experience innovating in child welfare across the country, and 2) a lived experience guide – birth parents who have been investigated by child protection or individuals who spent time in foster care as youth.
These 5 teams of 4 people that make up the UnSystem Innovation Cohort represent 5 regions and 14 counties: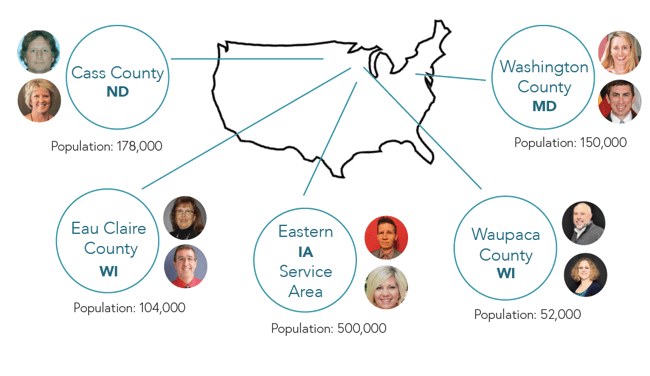 What are the Cohort members doing?
Our change framework is an adaptation of a tested and effective approach to change used in schools developed by IDEO called School Retool. Together the Cohort set an aspiration and separately within jurisdiction they are identifying desired behavior changes, creating theories of change, and implementing small "hacks" to achieve the desired changes.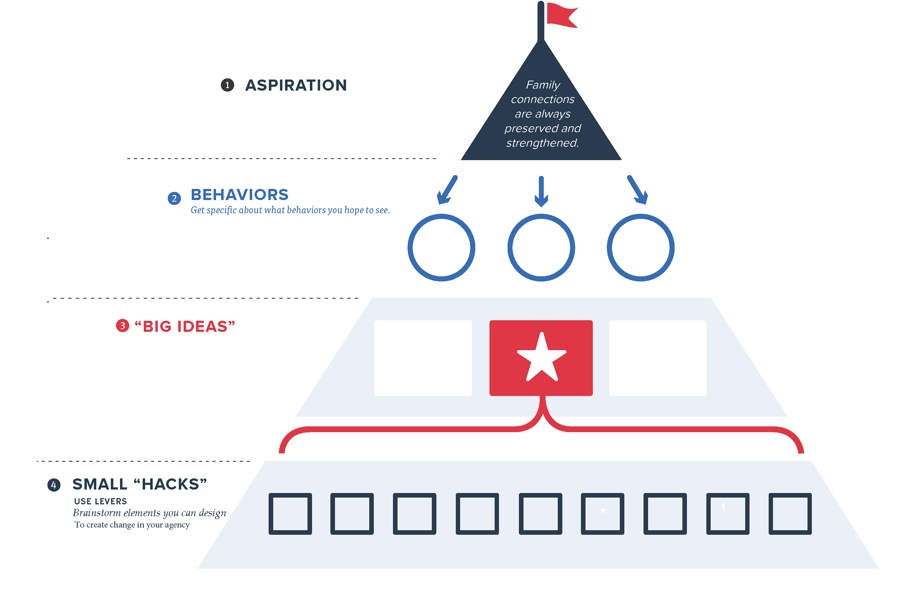 While together we are fulfilling a vision where family connections are always preserved and strengthened, how this is operationalized and delivered is local. As a result, there are 5 simultaneous experiments in play – all trying, hacking, learning, and iterating toward the aspiration.
Since March 2018, this group of 20 has met monthly in Minneapolis for Phase I of the 3-year commitment to transformation. They commit to revolutionizing their systems to become trust-based, family-driven, and trauma competent, preserving familial bonds in any way possible, however safely possible, to the maximum degree possible.
With a thought-ful plan, peer support, and a moral imperative to keep children safely connected to their families, we know big dreams can be realized.
Let's get more specific.
Here are some ideas of the hacks and big ideas they are implementing:
Online idea crowdsourcing campaign where over 200 ideas to achieve aspiration were submitted by 600+ staff among the 5 agencies – at least 600 human service workers are thinking about how to keep families safe for their children!
Move toward 55% of overall agency budget into prevention – this not only sends a message (we are about PREVENTING abuse and neglect, not reacting to it) but we expect a shift in behavior once resources are reallocated
Out-of-home placement decisions require additional level of approval – wraparound child safety conferences are being implemented where the team decides (including the parents and their natural supports) how to respond to a potential child removal
Changing TPR definition from "Termination of Parental Rights" to "Total Prevention Response" – your family will always be your family, whether or not their decision-making rights have been terminated on paper
No stays longer than 30 days in congregate care – simply deciding to do it differently
Leadership Book Club among staff to ignite systems change and innovative thinking – disrupt current thinking with new ideas
Budget process considers how, "Family connections are always preserved and strengthened" for every line item – are we really here to keep kids connected?
Challenging individual leaders to think beyond government constraints – peer Cohort plus guides push our thinking beyond what we thought possible
Interview successful and unsuccessful kinship placements – learn lessons on when and why kinship agreements are and aren't successful to make kinship care work more often
Case consultations reframed with family preservation language and approach – talking differently about goals changes behavior
Using insights from Cohort to influence current state or local change initiatives – most states already have change initiatives that Cohort leaders can influence with a radical family connection mindset
Removing glass from reception desk to increase personal connection – reduce us-them mentality and reduce stress
Host world cafés sessions with staff, current birth parents and community partners – we believe communities already have the solutions and it's our job to listen
Reassessing their commitment – are we here to make the system work better and easier for US or are we serious about keeping families safely connected?

What have we learned so far?
Thinking differently about our purpose (it's about keeping kids safely connected to their families!) and our perceived influence (oh yes you can!), is so much of the work.
We are right in the middle of the change process and see that even our convening alone has initiated significant shifts in thinking to see beyond our perceived resources and ability to change. Also,
Change is a trust-based, relational intervention. Nurturing relationships among staff, community partners, and the families you work with is the KEY to local systems change.
Reexamining current practice against a new vision of connectedness creates endless entry points to make changes for the better.
Investing in prevention (in mindset, conversation, and resources) will shift behavior in that direction.
The use of language to change how we think about our work in child welfare has significant influence over our behavior.
Employees have incredible ideas on how to do the work better and differently – just ask them.
Families know what they need – just ask them.
Building ongoing relationships with others outside your area brings fresh ideas and a new way of seeing your own work.
Funding this work has been very difficult – much more than we thought.
What's next?
In 2019 we will meet 3-6 times in person (we're planning as we go) to continue sharing and learning from each other's changemaking process. The UnSystem Innovation Cohort evaluator, Dr. Laurel Bidwell, is working alongside each agency developing a template to identify and measure behavior changes using a mix of numeric and observational methods. We'll share those data and insights when they become available.
We are capturing as much as possible about the Cohort process and about what each agency is learning and how they are pivoting practices based on new knowledge. Be sure to sign up for our newsletter as we share out learnings via webinar or written material.
It's our goal to convene a second UnSystem Innovation Cohort in 2020. If you are a public child welfare agency leader and are interested in guiding your agency through change, please get in touch with us.
If you are or know someone with resources to give and a vision for supporting innovative, build-as-you-go work to emerge a new healing way of practice in child welfare, please get in touch with us.