2020 summit info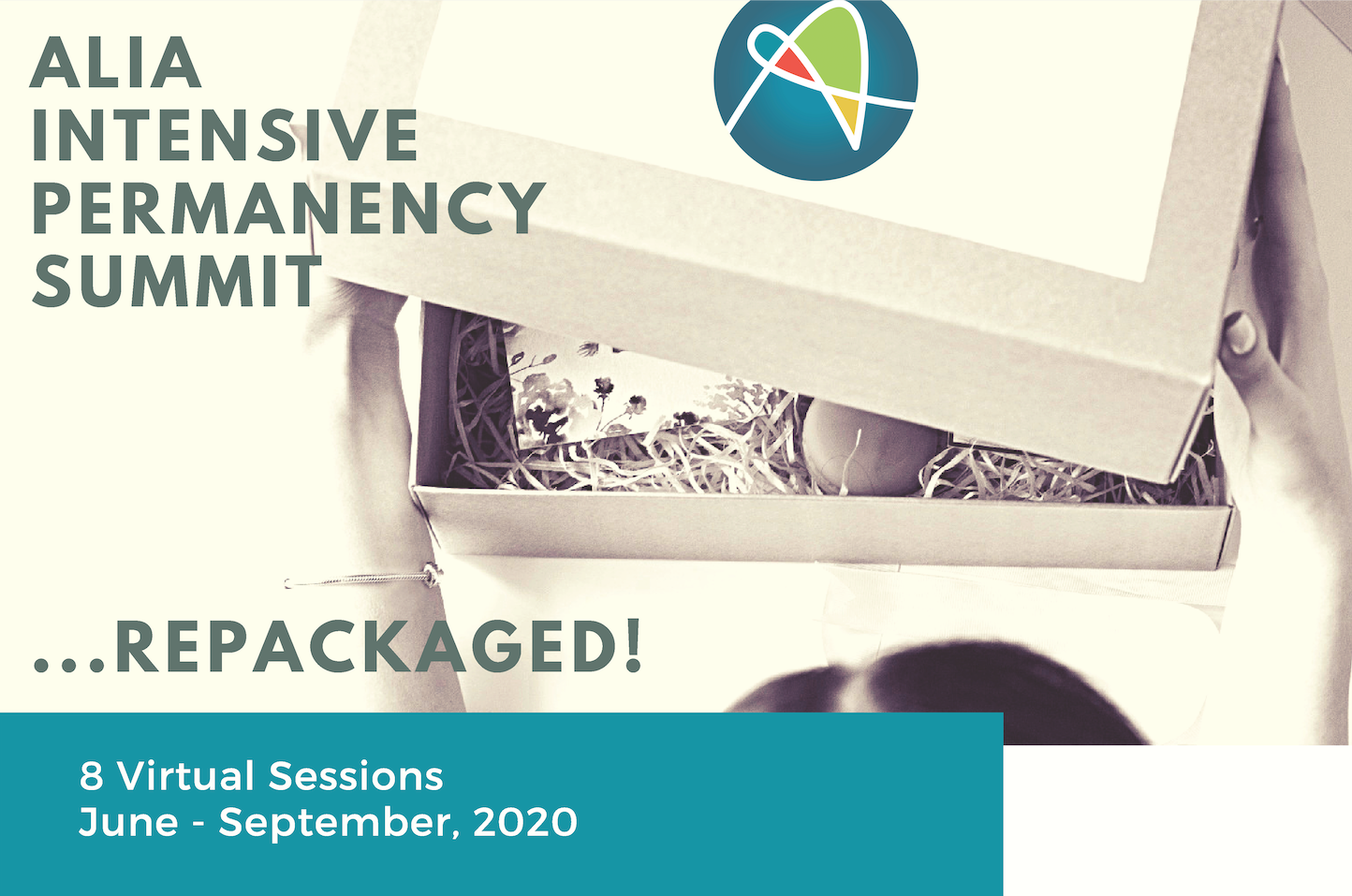 Join our freshly reformatted, social-distancing-friendly learning opportunity where you will learn how to help youth find permanency and heal from relational trauma.
With the new interactive, online format we added several upgrades such as personalized surprises and bonus offerings, which include:
Monthly toolbox mailed to your door with all course materials and activities to use with youth
Personalized items; radical hospitality by mail!
Extended time to integrate skills into your practice
Guest appearances from permanency experts
Three, 90-min group consultations at no extra charge
Three, 90-min permanency

supervisor trainings

(with every 2 agency registrations)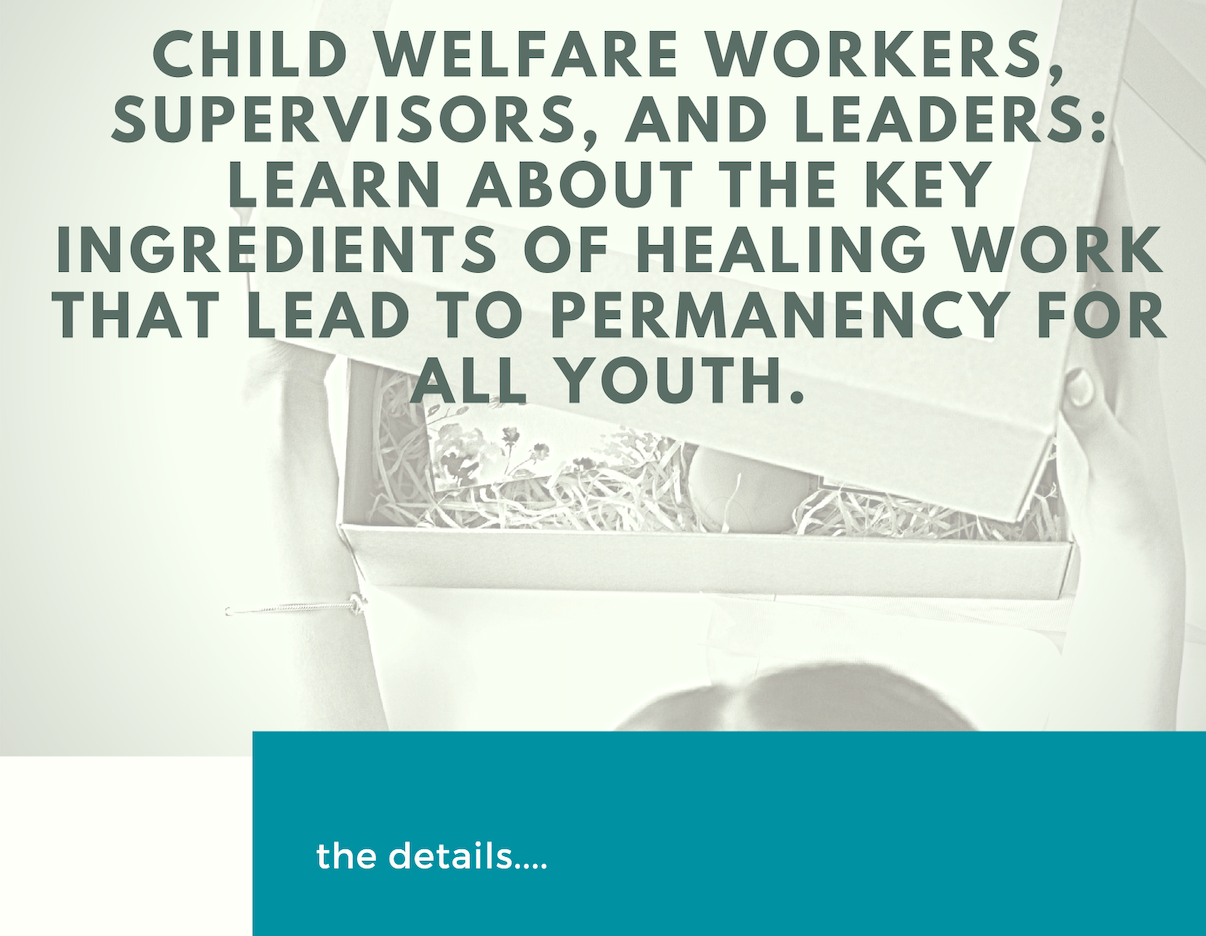 $2,900 per person course fee
The course will be held in 8 virtual sessions on the 2nd and 4th Thursdays of June, July, August and September from 12-1:30pm CT.
Consultations will be held on the 2nd Thursdays of October, November and December from 12-1:30pm CT.
For those will eligible registrations, supervisor trainings will be held the 4th Thursdays of October, November and December from 12-1:30pm CT.
Save the Dates!
Building an UnSystem | Sept. 15 - 17, 2020 | Alia space

How to Shift Your Organization towards Prevention: Learning from Leaders in the Field

Women Leaders in Child Welfare | Nov. 11 - 13, 2020 | Alia space

A Transformational Experience: Investing in Your Own Care, Calm and Fortitude
In-Person Summit Information
Fees for each summit: $2900 per summit
Summit registration and payment information:
Registration and full credit card payment of $2900 via Eventbrite (transaction fees apply) is due no later than 14 days prior to the Summit; when you register and pay via Eventbrite, your seat is immediately confirmed.
With an additional $350 last-minute pricing fee and immediate credit card payment, Alia may offer registration within 14 days of the Summit.
To request an alternative method of payment for registration, please reach out to us at summits@aliainnovations.org
Seating per Summit is limited to 20 people (at Alia's discretion).
Cancellations between time of registration and 14 days prior to Summit will be refunded at 50%, and no refunds will be given if cancellation is within 14 days of the Summit.
Questions or requests? Email summits@aliainnovations.org.
Fine print: Meals are mostly included: breakfast is included in Alia's preferred hotel partner's stay, lunches provided, and one group dinner on Day 1 is included. All travel costs and arrangements are the responsibility of the attendees. Summits (unless otherwise noted) are held in Alia's space (1000 University Ave W, Suite 230, St. Paul, MN 55104). Creative billing and payments for Summit fees are available such as payment in installments, over two fiscal years, to include travel, or whatever special arrangements must be made to accommodate budgetary constraints or goofy rules you may have to follow to attend. Special requests: Our goal is radical hospitality and we will ensure special requests for food, private space (for prayer, regulation, lactation, etc.), or anything else you might need to feel as welcome as possible, are met. Optional preparation work (i.e articles, videos) will be provided to you as an opportunity for enhanced learning.